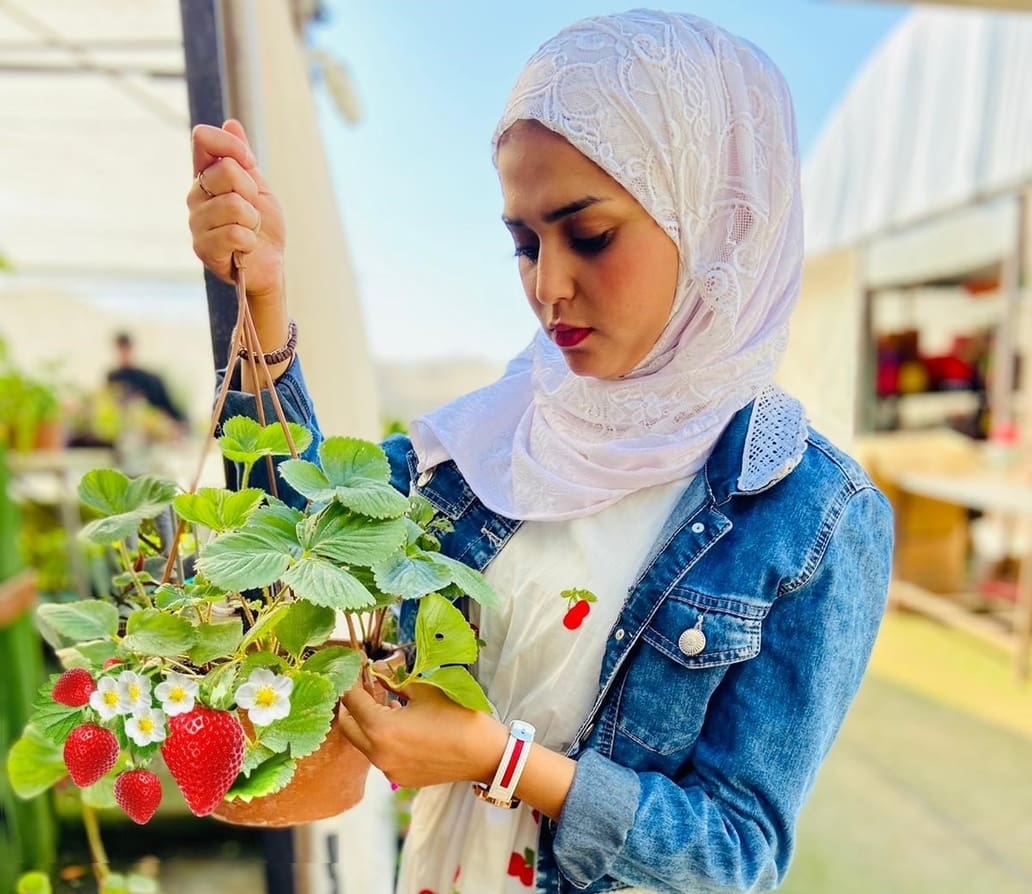 Jebreel Haj Salah from Palestine, a nature enthusiast, has for long advocated the importance of green solutions in agriculture. What upsets him most is the problem of products expiring early. "It is not only costly but also generates a lot of food loss and waste."
According to the UNEP, food loss is valued at $400 billion every year, which is about the GDP of Austria. In fact, the greatest food loss usually happens in the initial stages of the food supply chain before it even reaches the consumer, "which is unacceptable", argues Jebreel.
"It's so frustrating to think of how much food is wasted when so many people are hungry. With millions around the world suffering from hunger and billions not able to afford a healthy diet, I cannot help but think there must be something I could do to help." 
This is when he joined forces with Sondous Bsharat and Noura Omar, who are now his business partners. Together, the three visionaries worked hard and ultimately found a natural, effective, and innovative method to extend the shelf life of fresh produce without using chemical substances or preservatives, increasing the expiry date by 25 years.
Equipped with a background in agricultural engineering, the team had all the necessary technical knowledge to design and produce a device that can implement this method. What they lacked, however, were the necessary skills to transform their idea into a functional business. 
This is when the team reached out to GIMED, seeking to participate in the project's capacity-building workshops for ecopreneurs. Through these workshops, they were able to refine their project's business model and plan and improve their capability to access new funding options and explore new market opportunities.
 "The programme supported our marketing efforts and helped us better understand consumers' needs in the local and international market", says Jebreel.
With rising awareness about the harmful effects of chemical preservatives, the solution could not have come at a better time. The use of natural treatment methods will not only protect consumers' health but also that of the environment. 
The team's novel idea will also have a significant impact on the Palestinian agricultural sector by building farmers' resilience to external shocks like microbial growth and extreme or recurring changes in temperature. It also contributes to increased margins, improved brand reputation, and reduced food loss and waste. 
So, from a competitive standpoint, the team's innovative device and method will help produce more quantities of better quality and lower prices that are available year-round – not just seasonally. 
Our GIMED Project, which is part of the European Union's ENI CBC Med Programme, supports many other green entrepreneurs – like Jebreel, Sondous, and Noura – around the Mediterranean region. By nurturing innovation that protects the environment, we aim to stimulate the economy and at the same time ensure overall environmental sustainability.