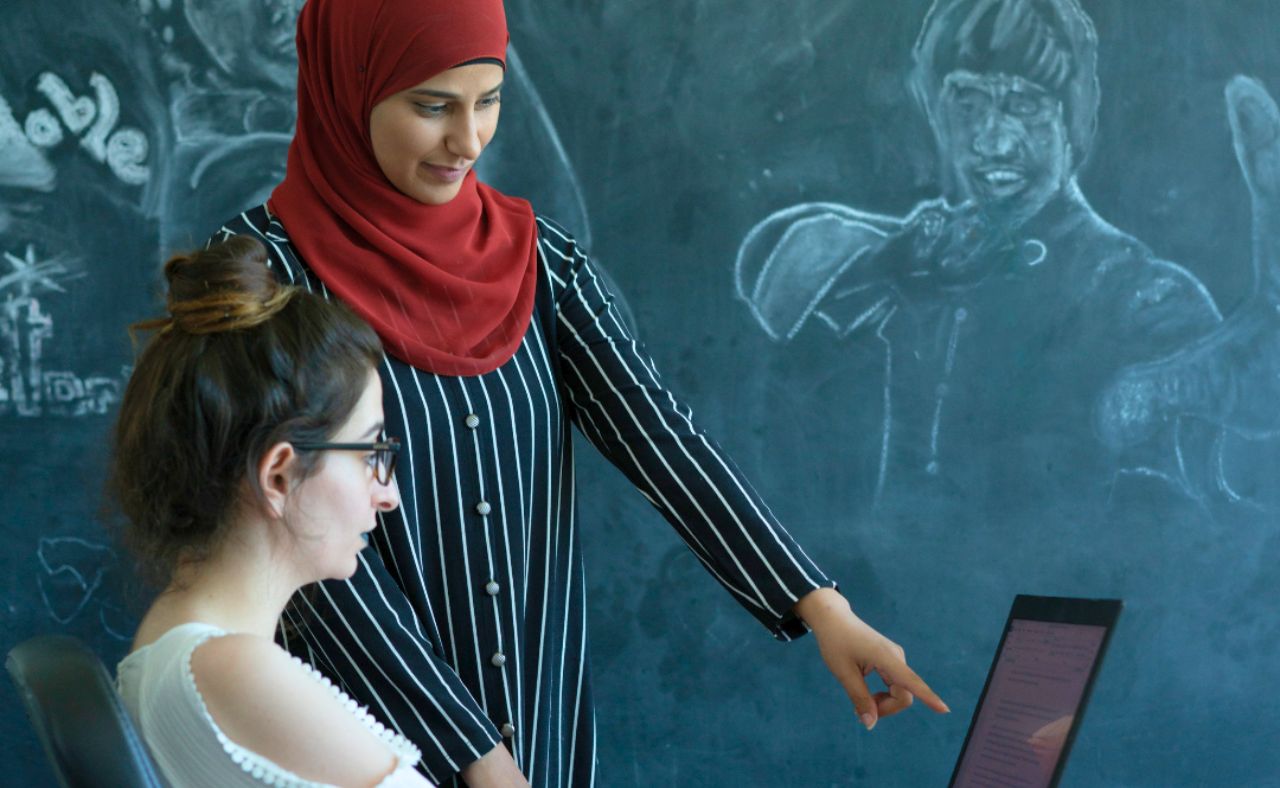 When aspiring graphic designer, and fresh graduate Mohammad Nijim sets out on his job hunt journey in 2022, he was flooded with uncertainty. He quickly realised that it wasn't going to be as easy to secure employment as he expected. Upon learning about freelance work, he was nudged to explore the concept more thoroughly. He didn't know where to begin.
Like so many other Palestinian youths, Mohammad wasn't alone. Youth unemployment in Palestine is currently estimated at 35%, which is an improvement from previous years, but still an unrelenting figure. Most Palestinian youth, especially fresh graduates, grapple with the unemployment upon the completion of their degrees.
Freelance work seemed to be a viable option that propelled Mohammad forward. Unclear of where to begin, Mohammad began searching for a gateway into the 'gig market.' He was pleasantly surprised when he came across the EDGE project, which provides skills training and professional development to aspiring freelancers in Palestine, to prepare them for an entrepreneurial, freelance career.
The 'Freelance Agency Model': A pathway to employment?
The emergence of the freelance agency model has revolutionised the way people, like Mohammad, do work. 'Gig workers' as they're called, can create their own flexible shifts, work on short-term contracts, for an array of clients and seamlessly access international markets.
This in turn offers them the opportunity to gain a broader portfolio of professional experience and not be confined to the conventional workplace setup, which can often be a deterrent for many job seekers who are looking for flexible work shifts.
For many Palestinians, the freelance model is their own gateway into international job markets that they would never have had access to before. Offering them a way to connect with clients worldwide, despite the current restrictions imposed on the population. Eradicating this barrier-to-entry is a game-changer for skilled youth in Gaza, who have been under a land, sea, and air blockade for over 15 years, making it practically impossible for its citizens to do business outside of Gaza.
According to the PCBS, youth unemployment in Gaza reached an alarming rate standing at a whopping 79%. Furthermore, while women have seen increased participation in the labour force, they still remain comparatively lagging behind their male counterparts. And with restrictions on mobility curbing their ability to find adequate work, for many, the gig economy can be a godsent, digital solution.
With the ability to connect freelance workers with a global customer base at any given time, of any day, freelance work could literally be calling Gaza's youth in droves. And for the fresh graduates with minimal work experience? Well, freelance work offers most people what traditional employment doesn't, and that's opportunity; one that isn't solely based on experience, education, or geographically restrictive.
What makes the EDGE project different?
Under the framework of the EDGE project, we have been working with youth in Palestine to create new opportunities for career development through the establishment of their own digital freelance agencies. Under the freelance agency framework, the founders of local incubators and accelerators are equipped with skills training and technical assistance to be able to support and encourage their cohorts to begin their path to entrepreneurship, through the development of their own freelance agencies. By providing entrepreneurs with the skills development and professional development training they need, young entrepreneurs will be better equipped for the creation of their freelance agencies.
The path to entrepreneurship is commonly met with trials and tribulations, but also immeasurable learning and growth. For many Palestinian youths, freelance agencies can not only solve the issue of unemployment, but create new windows of opportunity to experience what it's like to do business in global markets.
Leading the digital transformation in Palestine is an ambitious endeavour. But with the proper technical assistance, business mentorship and financial support, more and more entrepreneurs will be ready to join the digital workforce, in turn providing an imminent pathway to employment for many talented youths struggling to access international markets.
We're just getting started! With the support of our partners and our regional community of dedicated experts, we're making significant progress. Join us in developing a far-spanning network of freelance agencies near you.