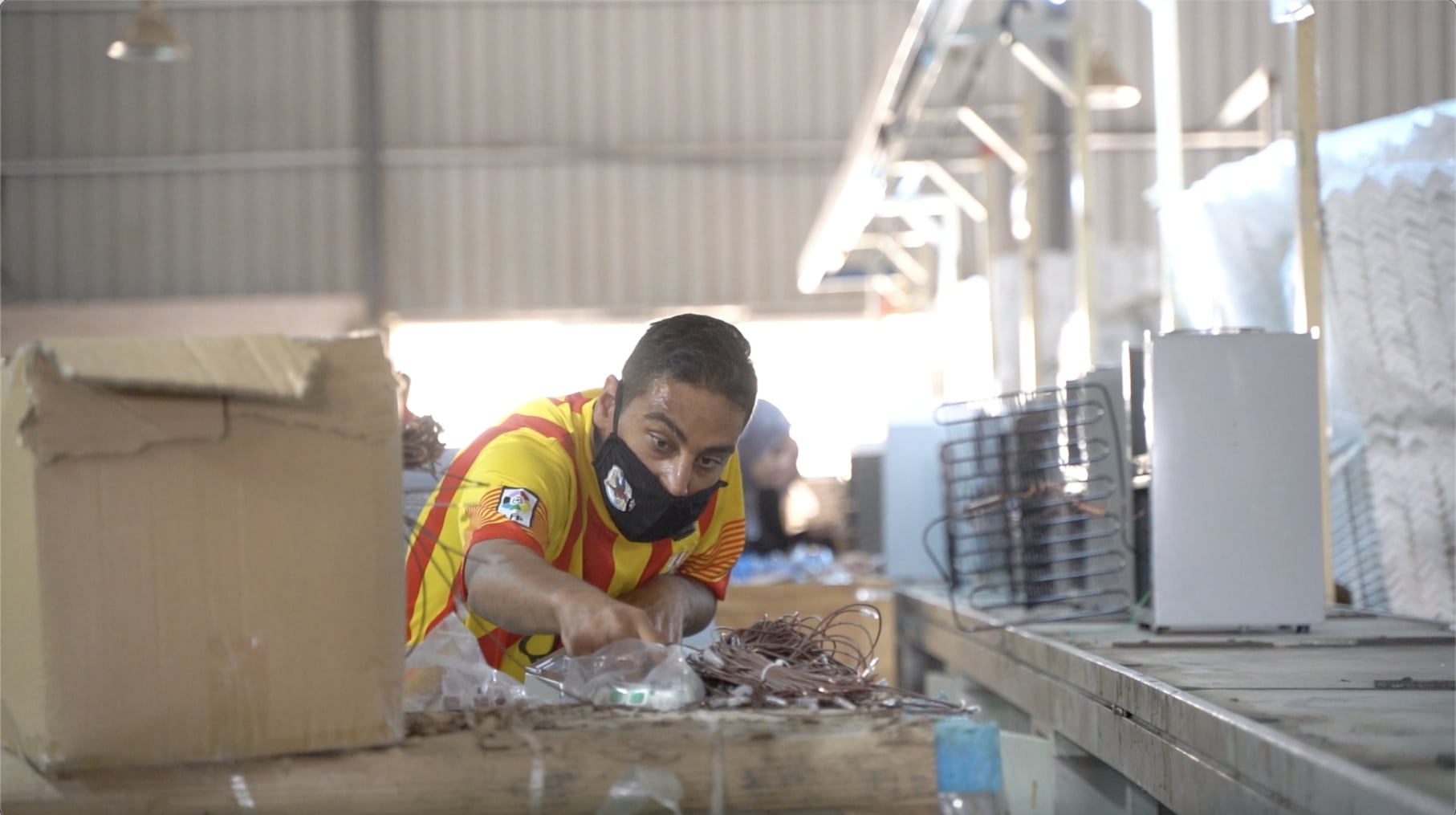 For years, Qusai, 29, had struggled to find a stable job due to his disability. Nevertheless, he did not despair and continued trying with unwavering faith and determination. This year, our Skills4Work project provided the window of opportunity he had long been seeking. Now, he supports his mother and sisters, who are also disabled. 
"Everyday, I wake up at 6, get ready, drink coffee, feed the chickens, and walk for 30 minutes to the gas station in my village of Al Nai'meh," he said. "From there, I catch the bus to get to the factory."
Qusai, who is now enrolled in an apprenticeship programme with Mashreq and Maghreb factory for home appliances in Irbid, receives training to develop his skills and increase his chances of finding a job. 
Like Mashreq and Maghreb factory, more small and medium-sized factories (SMEs) from different sectors are running an apprenticeship programme. Collectively, they aim to employ and build the skills of Syrian refugees and host communities in Jordan, with special focus on youth, women-headed households, people with disabilities, and other marginalised groups.
"I learnt so many things in the training, and I am glad I can now stand on my own two feet to be able to support my family and build a future for myself."
Recalling Qusai's transformative journey in rediscovering himself and his capabilities, his supervisor, Ma'an Maali, remarks: "In the beginning, Qusai faced difficulties in adjusting and adapting to his new environment. He was alone; he did not know anyone; and he wasn't as productive. With time, he started getting accustomed to the work. He made friends with his colleagues. He also started working more complex duties. Qusai is now a productive asset here. He has friends; they cooperate with him; they help him; he works with them; he laughs with them. He now has a family here."
After having spent over 4 months at the factory, Qusai started gaining a sense of belonging that ignited a passion for work and a commitment to deliver to his fullest potential. 
"Every morning, he is the first to show up. He doesn't miss a day, and he's never late. He is so engaged and focused that he even forgets to take a break," added Ma'an.
Although Qusai's path wasn't easy, Deputy General Manager at the factory, Omar Dabbah, applauds his determination and willingness to grow. "He was able to transform the challenges and disabilities into abilities and potential". 
In doing so, Qusai was able to prove to himself, to those in the factory and to everyone, that people with disabilities are not a burden but rather active, valuable, and productive members of society.
Omar urges people and employers everywhere to shift their perception and attitude to overcome prevailing barriers to inclusion. "I call on people and employers everywhere to give those with disabilities a chance. Having come from challenging backgrounds, they are inherently hardworking and are able to provide valuable input when engaged and embraced" says Omar.
"Hopefully, change will come for the better, with more people believing in them and their potential."
Although not all participating apprentices will get employed through the project, those who aren't selected will still receive career counselling sessions. In addition to the skills they gained through the project, these sessions will increase their chances of finding decent jobs.
Leaders International works across different developing countries on increasing job creation and employment opportunities for all. We tailor training and capacity building programmes to the needs of employers in order to fill existing gaps while boosting overall employability. We strive to advance social inclusion and create sustainable livelihoods for those characterized by low participation and high unemployment rates like refugees, women, youth, and people with disabilities. 
Learn more about our Skills4Work project in Jordan.