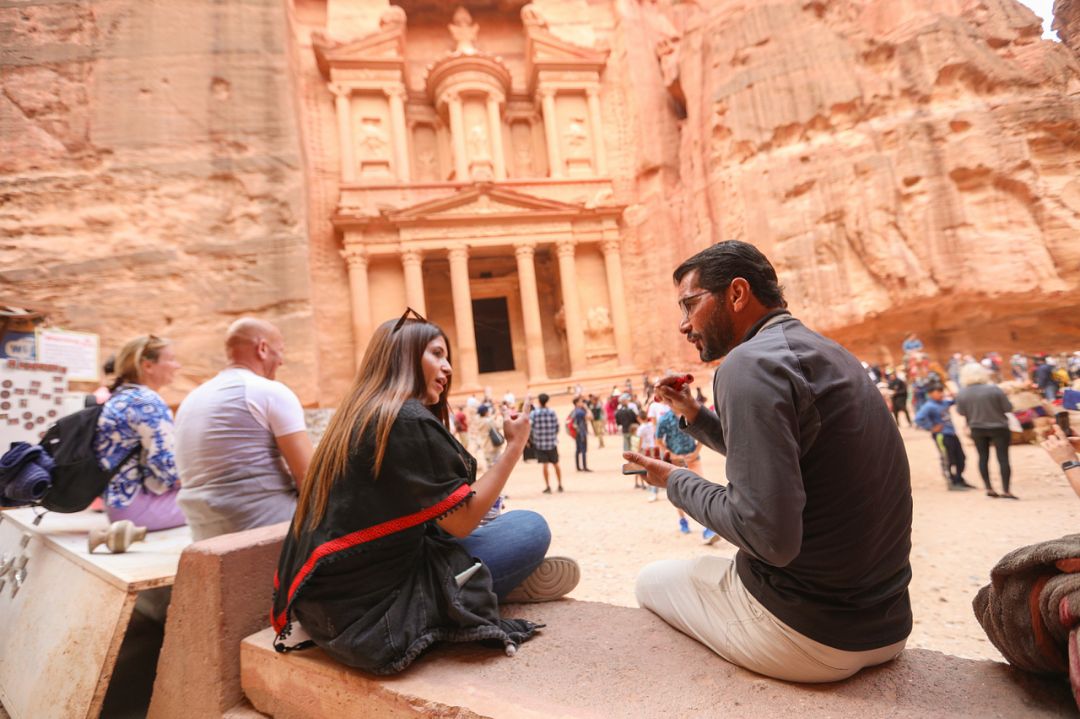 Mamoun Nawafleh was destined for a life in tourism. Born and raised in Wadi Musa, which borders the world-famous 'rose city' of Petra, it was almost inevitable that he, like his father and around 75% of the other people in his small town, would one day end up showing people the incredible sights that this corner of Jordan offered.
But Mamoun went his own way. After working for some years in PR at the Petra Visitors' Centre, he quit to pursue his real passion: archaeoastronomy. More specifically, he set out on his own to take adventurous visitors to Petra on a journey of historical and inter-galactic discovery.
Archeoastronomy is the study of how people in the past looked at and studied the skies. Books, stone tablets, temples, Megalithic constructs and artefacts from all over the world record the ways in which different civilisations interpreted – and were fascinated by – the heavens above us. And since 1998, this subject has kept Mamoun's attention like little else, too.
"There are 28 stories people like to tell about Petra, but I wanted to add something new," says Mamoun. "So I started to do my own research and discovered some things that had never been mentioned in the history books."
Among the things that fascinated him was the evidence he found of the astronomy methods employed by the Nabateans, an ancient Arab people who inhabited the region more than 2,000 years ago. He also studied the millennia-old 'clocks' carved into Petra's stone walls and steadily became a leading authority on archaeoastronomy.
Today, by combining his love of Petra, his background in tourism and his knowledge of archaeoastronomy and the night skies, Mamoun is a leading name in sustainable tourism, offering something a little different to the ready-made excursions that most visitors to the region sign up for.
"You'll rarely ever meet someone who is not interested in astronomy or astrology, and so that's what I do now. We call it astrotourism," he says.
A different take on Jordan's night sky
Mamoun's tours offer visitors to Jordan something different – he will typically show guests the archaeoastronomy highlights of Petra and other parts of the country, invite them to a traditional meal and then head out into the desert, away from the light pollution, to look at the stars.
More recently, he has also been something of a cheerleader for sustainable tourism across Jordan, thanks to the assistance he has received from Leaders International as part of our Curated Experience initiative in the country. This helps small businesses in the tourism sector – as well as newcomers to the industry ­– to diversify their offering in order to become more resilient and dynamic, attracting more tourists in the process.
Our goal has been to train and support 85 travel experience owners such as Mamoun from across Jordan, helping them to upskill and run professional businesses that lean on other local suppliers to help boost the overall economy; as well as promoting Jordan as the destination for alternative tourism in the region.
Top of Mamoun's wish-list was a digital camera – a top-spec Nikon P1000 – which we were able to provide for him so that he could explain the night skies to his guests and also promote his business online.
"Along with other tourism providers, I also attended some workshops that were carried out by Leaders International," says Mamoun. "These were really useful. They showed me how to create a business plan, for example, which I had never done before. It will really help when bringing the ideas I've had for new tours to life."
Mamoun is a fast-learner, and his new skills are enabling him to work with local astronomers, as well as Jordanian craftspeople who are creating artefacts and other souvenirs that will help to turn these tourism offerings into unforgettable experiences.
Activities of this nature are key to the development of sustainable tourism. Just like Mamoun, other experience providers . Bringing disparate groups together in the name of tourism and cultural immersion is a relatively new concept in the country – and one which Leaders International is keen to promote.
"These are really exciting times," says Mamoun. "We're taking people stargazing in parts of Jordan that are not commonly explored by tourists, and the feedback from guests ­­– who come from as far away as the US and Australia – has been incredible. People are already talking about coming back and bringing their friends."
It is, he feels, the start of something special. Not all of the communities in Jordan have been able to take advantage of tourism up until now, he says, but sustainable tourism bringing new experiences to visitors is a way to open up the whole country.
"We're offering local businesses the opportunity to learn from us and to invest in tourism – and I think a lot of people are ready to come and join us," says Mamoun. "We have thousands of archaeological monuments in Jordan and most of them are unknown outside of the country. If we can change that, then that's what sustainable tourism is all about."