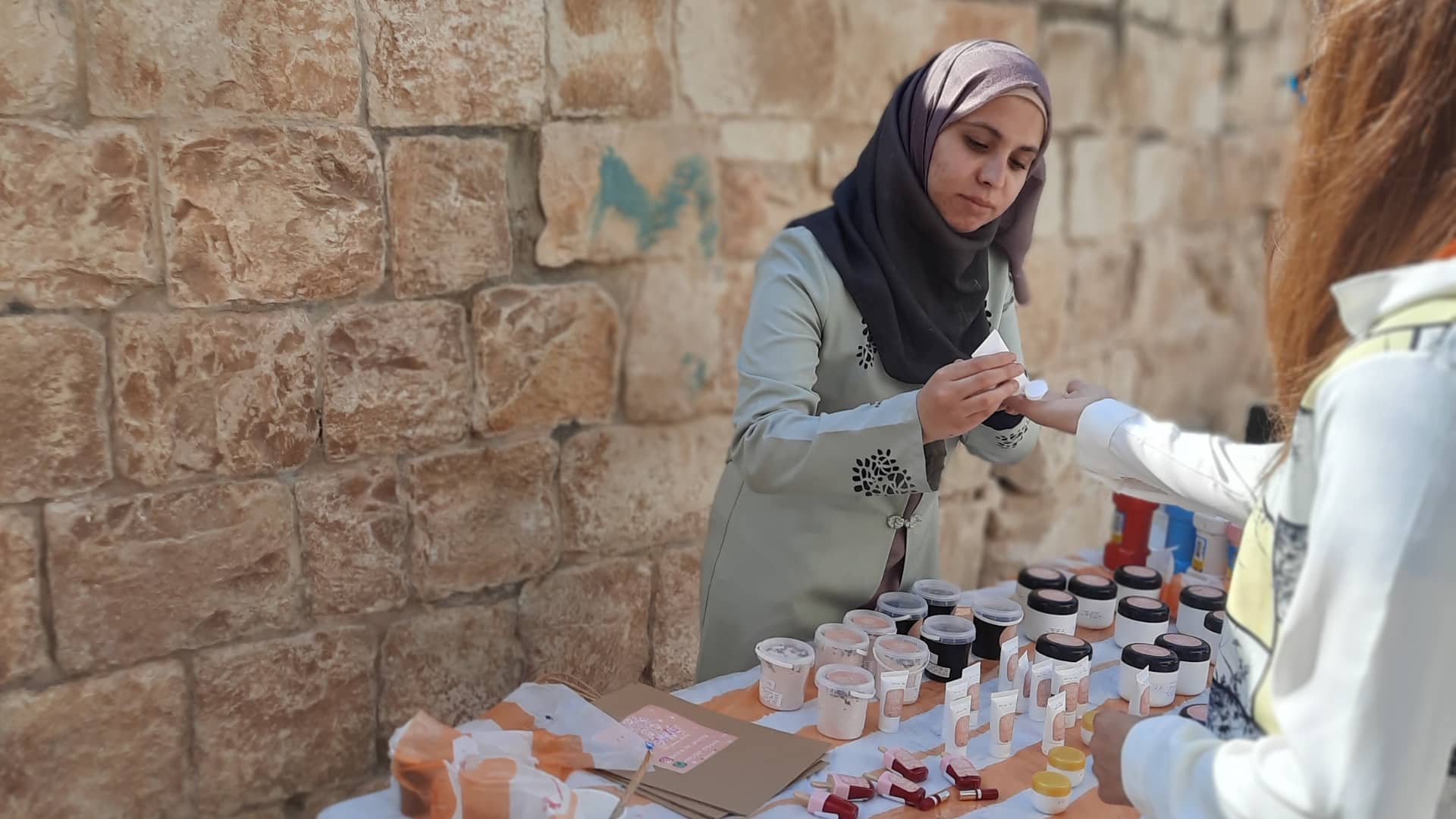 For years, Sawsan Khlaif had suffered from extreme hair loss due to chemical products and hair straightening treatments. The 26-year-old Palestinian then decided to seek out natural alternatives but did not find what she was looking for exactly. 
"This is when I decided to take matters into my own hands. I started researching and testing out different natural ingredients to create my own cosmetics. Today, I have my own business, where I use home-grown aloe vera and essential oils to produce natural, organic products," explains Sawsan.
The brand, Shine, is based on a green business model that promotes environmentally-friendly practices, straying away from chemicals that are harmful to our bodies and the planet.
"I create everything by hand from natural ingredients that I usually buy from a local vendor in Ramallah. My mother also helps me with planting and harvesting Aloe Vera and Rosemary in our backyard." Although she currently works from home, she hopes to one day operate a proper factory with a dedicated farm.
Sawsan's journey also helped her appreciate and embrace the beauty in her natural, wavy hair. 
"When I was younger, I had fallen victim to distorted beauty standards that single out straight hair as the only acceptable, beautiful, and feminine hair type. Sadly, I wasn't the only one. Most girls in my community were using flat irons or worse, getting chemical hair treatments that stressed, broke, and damaged their hair," she argues. 
Today, Sawsan is devoted to changing the narrative and encouraging girls to celebrate their natural hair. "Shine products provide the needed nourishment to improve health, increase strength, reduce frizz, and help damaged hair recover using all-natural ingredients."
Sawsan is also a strong advocate for environmental sustainability and all things green, where she tries to take small steps in reducing her carbon footprint and impact on the planet. For example, she encourages customers to return old containers so she could reuse the packaging by offering discounted prices for their next purchase.
"I first heard about LI's GIMED project through a friend of mine, who encouraged me to apply to what I now consider the ultimate turning point in my business journey."
Before GIMED, Sawsan tried some online courses but struggled to find everything she needed in one place. The project, however, was much more focused and personalised, "which is exactly what I was looking for", she explains. 
Through the training, she learnt to identify customer segments; develop her green business model and plan; run and manage a successful business; access finance and new markets; and design an eco-friendly product.
"GIMED helped me organise my thoughts and ideas, which were really jumbled before the project. It also helped me divide my tasks into manageable, measurable, and achievable milestones."
"More importantly, it helped me figure out some legal aspects related to starting the business. This represented my biggest barrier in the beginning, as I was completely clueless regarding what I need to do and where to even begin."
Like Sawsan, hundreds of ecopreneurs across the Mediterranean receive training and development support through GIMED. The project, funded by the EU under the ENI CBC MED Programme, is in line with our overall mission to spur green innovation and drive sustainable economic development.