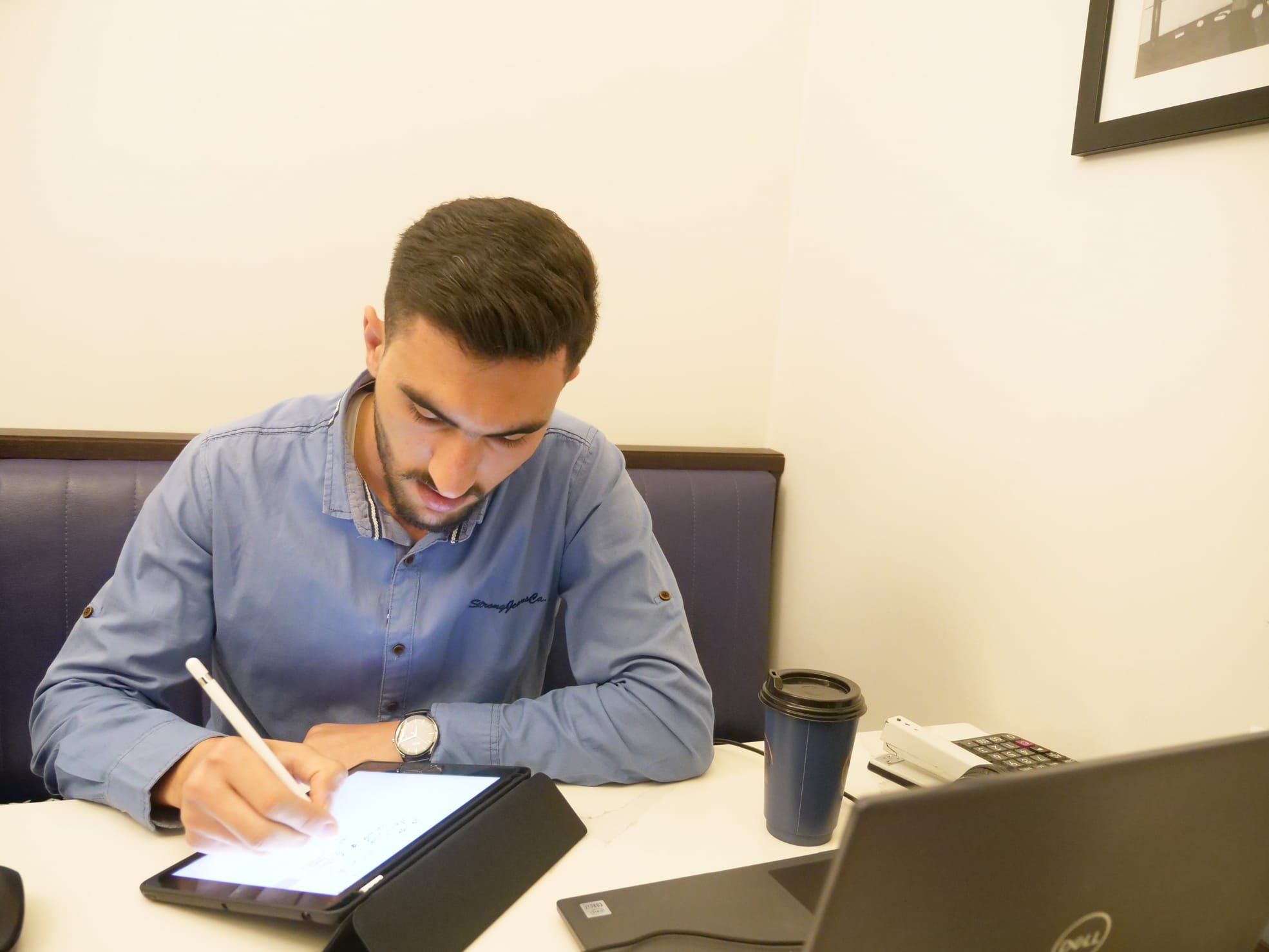 To Mohammad Aljazzazi, digital work broadens one's horizons and cultivates skills that are otherwise difficult to develop as an employee in a conventional working environment.
"When you are a freelance digital worker, you are basically representing an entire business by yourself. This means that you are the communicator, marketer, negotiator, manager, networker, and technical person at the same time. This, of course, is difficult to achieve when you are an employee with more specific roles and responsibilities", elaborates Mohammad.
Mohammad, 22, is a Jordanian mechanical engineering graduate who turned to digital work to expand his exposure and enrich his skills and capabilities.
"For me, these skills and capabilities are not only crucial for professional growth, but also – and arguably more so – personal growth. This is why as soon as I stumbled upon LI's Digital Avenue project, I immediately applied. I am now enrolled in their training programme to help me kickstart my online freelancing journey."
Mohammad is one of over 1,000 participants in Digital Avenue's online training academy. The project, funded by the United States Department of State, helps largely-unemployed young Jordanians tap into new income opportunities through global digiwork.
"I completed all four levels of the training and learnt so many new skills in terms of marketing, finance, dealing with clients, understanding their needs, and evaluating how they align with mine. I also learnt a lot about different online digital work platforms and how to use them to their fullest potential to generate leads that ultimately translate to income."
Mohammad is not exactly new to the freelancing world, and he did have previous experience before the project. However, he was not as informed and experienced with regards to understanding what jobs he is more suited for and marketing himself and his skills accordingly. As a result, the rate at which he would get a response, let alone a job was much lower.
"Through the training, I was able to increase my project portfolio and, consequently, my income. I am also proud to say that I have been chosen among the 25 best-performing participants to make it to the next phase of the project."
In the second phase, participants form agencies, 10 of which will receive seed funding and need-based mentorship from US-based experts.
"This phase is actually very useful because it is more individualised in comparison to the more general course. We are also learning a lot from each other's cases, which helps us consider issues that we had not previously paid attention to", states Mohammad.
As much as the project was valuable careerwise, Mohammad also emphasises its significance to his personal life. "I have made many friends in the process in addition to acquiring important skills that are helping me in my personal life such as the ability to conduct a cost-benefit analysis, build connections, and communicate effectively."
Mohammad is now part of a team of 3, specialising in simulation, animation, and 3D rendering and modelling. He met his team through the project, and they are currently applying to incubators in Jordan who could support them in scaling their business and establishing themselves as a proper, formal startup.
Mohammad encourages everyone to give the digital work route a try. "Not only does it build your skills, but also your capabilities, which are more deep-rooted in nature and can be applied in many contexts."
Mohammad's message to young Jordanians is to "prioritise having purpose, goals, and ambition. Do not worry about money at first, which will take some time and effort in the beginning of your journey. Just focus on your purpose, your end goal, and your journey to get there, always considering how you can contribute to the betterment of your society and country in the process."